The following icons allow you to access important features:
Member Content Blog (Lightbulb)
If the Microphone Icon is Red, this indicates new content is available. This content is posted by Client Success and includes a weekly video by Dan Russo posted every Friday and other content we believe would be useful to Members.
Contact a Specialist (QUESTION MARK)
This allows you to contact our Customer Support department.
After you click on the QUESTION MARK, you will be asked to fill out a form to submit your ticket to support. Once we've received your ticket, we will work hard to get your issue resolved as soon as possible. Responses will come to your email. If you do not receive a response, please check your spam folder.
Support can also be contacted at the included phone number. 
Chaikin Insights (LIGHT BULB)

By clicking on the LIGHT BULB, you can access Chaikin Insights — Chaikin's home for premium market commentary and actionable stock ideas, updated daily. Chaikin Analytics subscribers have access to Weekly Market Insights and Daily Morning Insights, written by our veteran market strategists. This will open in a separate browser tab.
Market Insights in Chaikin Analytics. 
Product Resources (STACK OF BOOKS)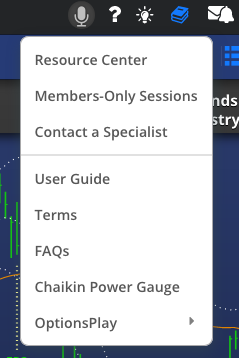 Clicking on the STACK OF BOOKS icon, will bring up a dropdown of menu items.
Resource Center provides access to the Chaikin Analytics Resources page.
Members-Only Sessions allows you to register for upcoming Members-Only Sessions or watch previously recorded ones.
Contact a Specialist allows you to contact our dedicated support team directly, or schedule a one-on-one session.
User Guide, Terms, FAQs provides helpful information about the product.
Chaikin Power Gauge provides reference material on the Power Gauge Rating and its factors.
OptionsPlay provides a User Guide and video walkthru for OptionsPlay.
Manage Stock Alerts Emails (MAIL + BELL)
Chaikin Analytics allows you to receive a daily Stock Alert email, including Alerts for stocks in a particular User List, and/or one of the major market indices. If you enable it, the email will be sent to the email associated with your Chaikin account login, prior to market open each trading day. 
Log out (PERSON WITH ARROW)
Log out of your Chaikin Analytics session. You will be returned to the Sign In screen.
Settings (GEAR ICON)
Underneath the gear icon, you will see the following settings related items:
About: Chaikin Analytics version info.
Manage Membership: Cancel your membership here.
Notifications: Show or hide the Notifications banner, which automatically displays the latest announcements from Chaikin, including Product Releases, Market Alerts, and System Announcements.
Terms of Service: Legal details.
Import List: Import a list of tickers from an external source into Chaikin Analytics.
Attributions: Data vendor attributions.