When viewing the WORKSPACE, you click on the hamburger button  to expand the list navigator.
Underneath, you will see USER LISTS, INDUSTRIES, INDICES, US EQUITY ETFs, and CHAIKIN HOTLIST.
USER LISTS:
You can create new lists and manage your current custom lists.
To create a new list, click on 

.
Type in the new list name and press enter/return on your keyboard to create.
INDUSTRIES
Chaikin Analytics provides Industry groupings supplied by Standard and Poors.
Strong and Weak Industries
You can use Chaikin Analytics to easily identify strong and weak Industry Groups. "Power Bars" show the breakdown of Bullish, Neutral, and Bearish stocks in an Industry or any list.
To view the Power Bars, click 
 the arrow in a circle icon.
Click the arrow again to close.
You will now see Industries, sorted by Power Bar, most Bullish to most Bearish. The position of an Industry in this list can indicate its likely future intermediate-term performance relative to other industries.
Chaikin encourages investing in strong stocks in strong groups. Looping through Very Bullish stocks in strong industries is one way to use the system to find promising names. In the example above, "Oil-Integrated" have 17 Bullish stocks and 0 Bearish indicating strong potential to outperform the market.
To sort ALPHABETICALLY instead, click on A|Z icon. By default, your lists will sort by Power Bar.
INDICES
Chaikin provides constituent lists for the following ETFs which track major Indices. 
To view all of the indices in a list, including their Power Gauge Ratings, click on the list icon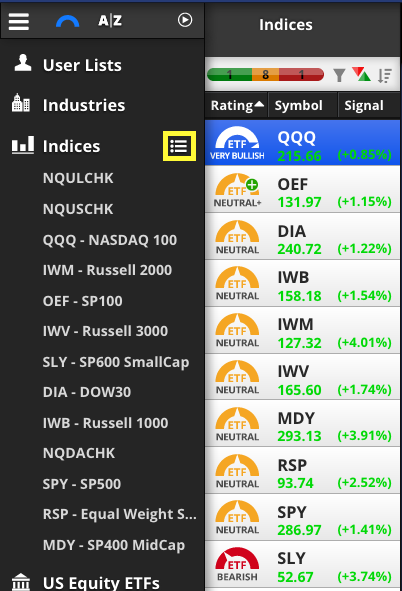 U.S. Equity ETFs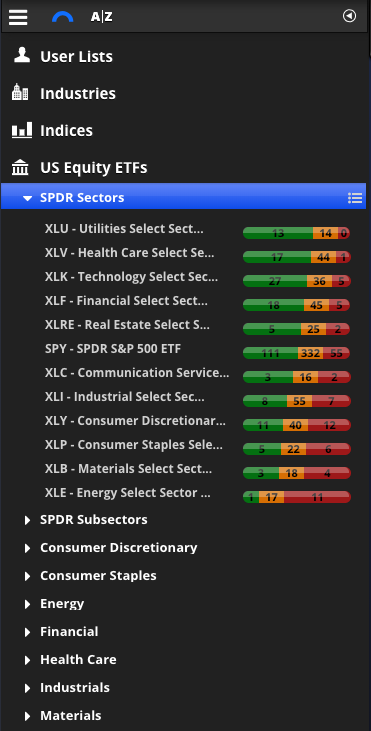 Chaikin Analytics provides constituent lists for Exchange-Traded Funds (ETFs) listed on the NYSE or NASDAQ exchanges. These are grouped into Categories, by Sector and Style, enabling you to compare ETFs with similar investment objectives.
By Sector: SPDR Sectors, SPDR Subsectors, Communications, Consumer Discretionary, Consumer Staples, Energy, Financial, Health Care, Industrials, Materials, Real Estate, Technology, Utilities.
By Style: All Cap Growth, All Cap Value, All Cap Blend, Large Cap Growth, Large Cap Value, Large Cap Blend, Mid Cap Growth, Mid Cap Value, Mid Cap Blend, Small Cap Growth, Small Cap Value, Small Cap Blend, Closed End, Dividend Yield, Equity Strategy ETFs, Inverse Equities, Leveraged Equities.
You can view each ETF in a list with their Power Gauge Ratings the same way you view the Indices. Click the list icon:
You can also compare any groups of US-listed ETFs on the ETF Comparison page.
Expand a Category to see the ETFs within it. Select an ETF to view its constituents in the Watchlist.
ETF constituents are updated daily.
Chaikin Hot Lists
Chaikin provides various types of Hot Lists as a source of potential investment ideas. Some are automatically calculated, and some are curated manually, as described below. The investor should always carefully apply their own selection criteria before deciding to take a position in any names.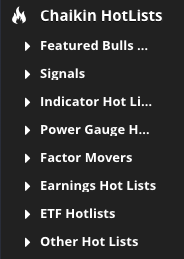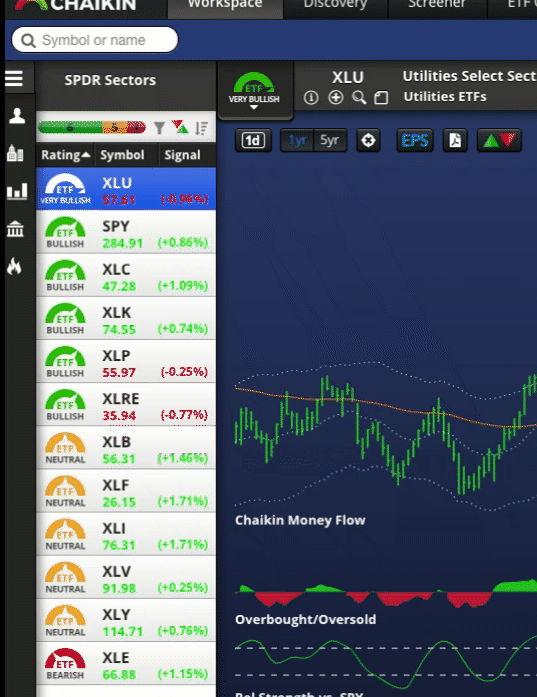 Quick Walkthrough of expanding the list navigator and viewing the Power Bars.